Due to the multiple health issues that most seniors battle with, they need to take certain medications every day to remain healthy and enjoy good quality life at old age.
But the problem with daily use of medications is that there is always a time when you either forget to take them or are not sure whether you've taken them or not. And this problem is common among seniors because they tend to get confused easily and forget things fast — no thanks to their aging memories. The two common results of this problem are missed medications and overdosing. And neither has good consequences.
However, with an automatic pill dispenser to the rescue, seniors can take their medications as prescribed without skipping or doubling them. And caregivers can rest assured that their aged parents will manage even the most complex medication regimens on their own. So, these devices really do help to improve medication compliance among the elderly.
What is an automatic pill dispenser, and how does it work?
An automatic pill dispenser is an electronic device that works just as its name implies — it dispenses specified pills at specified times.
The device has a tray with several compartments meant for the drugs to be taken at specified times. It allows you to specify what times of the day you want the alarm to go off at. At the set time, the device's alarm goes off, and the tray compartment containing the drugs due for that time is brought out, so that the drugs can be taken easily.
In addition to the alarm, some models have lights that blink repeatedly when the alarm goes off. And for compliance monitoring, some advanced models have in-built call facilities that place a call to a specified mobile number whenever medications are missed. With this feature, caregivers can be alerted when medications are skipped.
To avoid overdosing or unnecessary access to drugs that are not needed at each time, virtually all automatic pill dispensers come with a lock mechanism. So, users only gain access to the drugs they need at each time.
Automatic pill dispensers for seniors: features to look out for
While there may be slight variations in features and designs of automatic pill dispensers, some features are must-haves for every reliable device. So, whether you're a senior or caregiver looking to buy an automated pill dispenser, here are the features you should look out for:
Tray size: Although pill dispensers generally have tray compartment sizes that would comfortably hold most medication regimens, some seniors take pills that are more in number or larger in size. If this applies in your case, then you'd have to look out for automatic pill dispensers with larger tray compartments.
Alarm: This comes with virtually all automatic pill dispensers. But the maximum volumes vary with model. If you're buying the device for someone who has some hearing difficulty, you might want to shop specifically for devices with very loud alarms.
Flash light: In addition to the alarm, some devices also alert their users with a blinking flashlight. Such devices are also particularly good for seniors with hearing difficulty.
Lock mechanism: While all automatic pill dispensers come with a lock mechanism to prevent overdosing and unnecessary tampering with medication, the strength of this mechanism varies from model to model. While some devices come with very strong lock mechanisms that cannot broken through, others have rather weak lock mechanisms that are not difficult to break. If you're buying the device for someone who's addicted to some of the medications to be loaded or who is likely to tamper with drugs that are not needed at the time, then your best bet is a model with a very string lock mechanism.
Ease of use: Some automatic pill dispensers can hardly be set up and used without the need to go through the instruction manual for hours to days, while others are just dead easy to get along with. It goes without saying, but seniors should not be "punished" with a complex pill dispenser. So, always go for one that is easy to set up and use. Else, the objective behind buying the dispenser would be defeated!
Compliance monitoring: Some automatic pill dispensers come with compliance monitoring programs that initiate certain tasks each time medications are missed, such as placing a phone call or sending a text message to the caregivers.
Review: Best automatic pill dispensers for elderly people (seniors)
With more and more people coming to realize that buying automatic pill dispensers is a far cheaper alternative to hiring professional caregivers, there is increasing demand for these devices. So, it's expectable that more and more models keep entering the market, making it hard to make the right choice.
However, to ease the challenge of choosing the right automatic pill dispenser from the several models available in the market, we decided to research the market for the best models based on customer experience, manufacturer trust, cost, features, and other important factors.
Based on our findings, here are the 6 best automatic pill dispensers available at the moment.
1. The e-pill Automatic Locked Pill Dispenser
Our top pick is the e-pill automatic locked pill dispenser, which has been cleverly designed to help seniors comply with their medications. The device comes with 28-compartment trays, which means it can administer medications 28 times. This could be once per day for 28 days, twice per day for 14 days, or thrice per day for nine days and so on, depending on the number of times the user needs to take drugs daily. So, caregivers can load up to one-month supply of medications.
Interestingly, the device comes with 2 trays that can both be loaded at a time. Once the first tray is emptied, the device automatically switches to the second one. Each tray has very large compartments that can take any several drugs at a time.
The device also comes with an alarm that will go off at the specified time. This alarm keeps blaring for 90 minutes (that's one and half hours!) before the device regards that dose as being skipped. And once a dose is skipped the device retracts the drugs back into the compartment, so you can tell if any doses were skipped when next you open up the device.
The alarm is very audible, so even hearing impaired seniors can hear it clearly. And the lock mechanism is strong enough to discourage tampering or overdosing. The device can be powered with an AC source, and it comes with backup batteries that come in handy during power outage. When the device is running on batteries alone, they last for more than one month, according to most consumers who have bought and are using the product.
The device has a simple LCD display. Although this looks a bit outdated, it's better for seniors because it's much easier on the eyes. The device is very easy to program and easy to get along with.
Most interestingly, the MONITORED version of this device comes with a compliance monitoring feature, which places a call or text message to caregivers each time medications are missed.
However, this device has one downside: weight. Since the user needs to carry the device and turn it upside down to get the due medications, seniors battling with neuropathy or other semi-disabling conditions might find this device hard to use.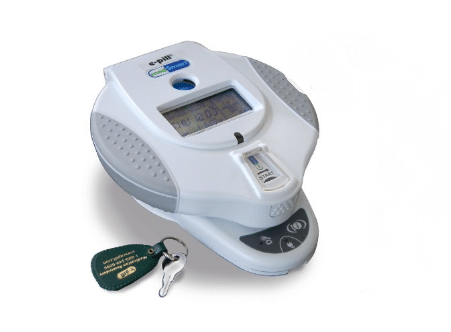 Outstanding features
28 large compartments
Two trays
Very loud alarm
Long alarm time (90 minutes)
Strong lock mechanism
Powered by both AC and batteries
Simple, legible display
Easy to setup and use
Calls or texts caregivers when medications are missed (MONITORED version only. See correct link below)
Buyer opinions
As of the time of this writing, the e-pill automatic locked pill dispenser is one of the best rated among the products we reviewed, and the buyer reviews were detailed and very encouraging. We found 32 customer reviews for the product, and there was an average rating of 4.5 out of 5 stars. To us, that's just outstanding!
[However, if you'd prefer the MONITORED version of the e-pill dispenser, which places a call or text message to caregivers each time medications are missed, click here to buy it on Amazon]
2. The MedReady 1700 Medication Dispenser with Flashing Light
Another highly rated device, the MedReady 1700 medication dispenser also features 28 large tray compartments, each of which can hold as much as nine pills. This makes it ideal for complex medication regimens.
The dual alarm is loud at 85 decibels, though of low frequency (400Hz). Once it's time for medications to be taken, the alarm goes off and the red lights flash continuously until the due drugs have been retrieved. The red flash lights can help alert seniors who have hearing impairment. You have the option of enabling both alarm and flashlight or either.
The device is tamper-proof, as it can be locked with a real key lock (not just latch or tab), which helps to prevent overdosing. And it runs on both AC power and batteries (it comes with an AC adapter and rechargeable NiMH battery pack).
As with our top pick, this device makes missed doses inaccessible, so you can see them when next you open up the device for loading. The device sports a large 0.5″ display, which shows current time and next alarm time.
One downside of the product is that getting the medications out of it could be a bit tricky at first, but within few days the user will get used to it. Another downside is that the buttons used to set the alarm are somewhat small. But again, it's easy to get used to them.
Outstanding features
28 large compartments
Alarm + red flash light
Simple, clear display
Strong lock mechanism
AC and battery powered
1-year manufacturer's warranty
Buyer opinions
As at the time of this writing, the MedReady 1700 medication dispenser had 39 buyer reviews on Amazon.com, and the average rating was 4.6 out of 5 stars. The device made our second spot because of its dual alarm and red flash light features. But we couldn't favor it over our top pick because it lacks the compliance monitoring feature. In all, it's a great product, according to most buyers who reviewed the product on Amazon.com.
3. The GMS Med-e-lert 28-day Automatic Pill Dispenser
The cheapest device on our list, the GMS Med-e-lert automatic pill dispenser, is one of the bestselling automatic pill dispensers on Amazon.com and is no doubt worth much more than its price.
What makes the device particularly appealing is its transparent lid, which allows you to see which medications have been taken without necessarily having to open up the device. And that's why it made our list.
As with other dispensers on this list, the MedReady 1700 medication dispenser features a 28-compartment tray, which means medications can be loaded for up to 28 days — depending on how many times the user needs to take medications in a day.
Powered by readily available AA batteries, the device sports a simple LCD display and alerts the user with a load alarm with blinking light. So, it's an ideal option for seniors with hearing difficulties. The alarms can be set for up to 6 times daily, and programming is retained in the device's memory even when batteries are removed or replaced.
To prevent overmedication and tampering with medications, the device comes with a strong lock mechanism. However, this mechanism is easy to beat, as the key isn't the exclusive type.
Other downsides of the device include durability issues and intermittent malfunctions, as reported by some customers who have tried out the product. But since these are not general complaints, we believe the device remains a great option — though not as good as the two previous ones on our list.
Outstanding features
Clear lid allows you to see medications taken
Alarm + red blinking light
Simple LED display
Buyer opinions
As of the time of this writing, the GMS Med-e-lert automatic pill dispenser had a staggering 318 customer reviews on Amazon.com. Overall, it had an average rating of 4.2 out of 5, which means most consumers were satisfied with the product, the few complaints notwithstanding.
In all, we recommend this product is you're on a tight budget. But if you'll prefer something more durable and tamper-proof, go with the previous devices on our list.
Automatic pill dispensers for seniors: General limitations
Please bear in mind that automatic pill dispensers in general are not free of limitations. And here are some of them.
Having the alarm might not make meaning to some seniors, so you need to help them get used to the alarm. This way, they'll understand what the sound (and blinking light) means each time they hear it.
In addition, the user should be taught how to retrieve medications from the device once the alarm goes off, since the device won't put the drugs into the user's hands.
And lastly, the device cannot compel the user to take their drugs. So, you need to teach the user to always take their drugs immediately after taking them out of the device.