Falls are the leading cause of injury to individuals aged over 65 according to the Centers for Disease Control and Prevention (CDC).
Velcro shoes are generally thought to be the most suitable shoes for elderly people. They're easy to wear and pull off without the need to deal with shoelaces, which can be cumbersome. And even dangerous.
If you're an elderly person or caregiver looking to buy a pair of high-quality velcro shoes without making any mistakes, then you're just on the right page.
Here, you'll learn more about velcro shoes and why they are better for seniors than other shoe types. In fact, we should point out that recent studies have confirmed that shoes are safer for seniors than bare feet, socks or slippers.
Best Velcro Shoes for Elderly: Our Top Picks
In a hurry? Here's our comparison table for men:
OUR TOP PICK
New Balance Men's 813 V1 Hook and Loop Walking Shoe
EDITORS CHOICE
Propet Men's M5015 Scandia Strap Slip-On
BEST VALUE
Hush Puppies Men's Gil Slip-On Shoe
And here's our comparison table for ladies:
OUR TOP PICK
New Balance Women's 577 V1 Hook and Loop
EDITORS CHOICE
New Balance Women's 813 V1 Hook and Loop
BEST VALUE
Propet Women's Tour Walker Strap
The market is flooded with different models and brands. And making the right choice can leave you with a head-scratching experience.
To save you from this, we have scoured the market for the bestselling velcro shoes for elderly men and women and have come up with a list of the best choices based on a number of factors including buyer opinions, durability, and brand trust.
Here are our top picks for senior men and women.
3 Best Velcro Shoes for Elderly Men
OUR TOP PICK
New Balance has been in the business of helping athletes reach their goals through committed research and development for over a century. So it comes as no surprise that its 813 V1 Hook and Loop Walking Shoe was designed for comfort, and is duly easy to put on and take off.
Your feet need air to be fresh and healthy all day long. This is why the leather on the top of the shoes is perforated slightly for breathability. If you take lots of walks, then you need a pair that offers you great anti-shock properties. The heel of MW577 is designed using the ABZORB technology to provide all the anti-shock you'll ever need.
These shoes – designed in the US from 100% real leather – have a synthetic sole that is judged by many as very durable. It comes in three colors – black, bone, and white – so there's something for every style.
Pros
Easy to put on and take off.
Provides breathability, keeping your feet well-aired all day long.
ABZORB tech in the heel provides anti-shock.
Cons
The Velcro straps are too short.
Poor cushioning on the inside, which could lead to blisters.
EDITORS CHOICE
The M5015 Scandia Strap Slip-On by Propet was designed for flexibility and comfort, evidenced by the fact that they are hand-stitched, which also implies durability. The insoles are made of Poliyou tech, making it possible for moisture from the feet to be completely absorbed. This way, your feet are protected from odor and stay both comfortable and healthy.
To provide added support, there is an internal heel contour as well as a padded collar and tongue. The sole of these shoes is designed using polyurethane, which translates to durability and shock absorption. The full-grain leather on the top makes it the perfect dress shoe for casual occasions.
It comes in two colors, brown and black, both with grained variants. The shoe is great for diabetic patients and is certified under the Medicare/HCPCS code A5500.
Pros
Hand-stitched for flexibility and comfort.
Polyurethane soles for durability and shock absorption.
Great product for diabetic patients.
Velcro straps are a perfect fit for the size.
Cons
You may need to choose the size up from your regular shoes as the sizing isn't always too accurate.
Soles are a tad slippery.
BEST VALUE
If you need a pair of Velcro shoes for men that are practically weightless, you should try the Gil Slip-On by Hush Puppies. It was made to be so light, you almost don't feel like you've got any shoes on at all. They're perfect for a long day at work, especially when you'll be standing or walking for most of it.
They owe their clean appearance to "moc-toe" design and tonal stitching on the smooth leather at the top. To provide your feet all the comfort you need, the interior is fully cushioned. As if that was not enough, there's also a removable EVA footbed to provide added cushioning.
To allow for comfort and flexibility, the sole is designed using Strobel construction. The Zero-G tech brings together a durable Rubber outer sole with an anti-shock Elon midsole.
Pros
Weightless, keeping you comfortable all day long.
Durable soles.
Beautiful and clean design.
Cons
Too costly compared to other shoes of the same class.
The leather may become stiff and less plushy over time.
3 Best Velcro Shoes for Elderly Women
OUR TOP PICK
This is the second New Balance shoe on our list and it's definitely worth its spot. There's a lot about the WW577 that puts it in a class all of its own. One of its major selling points is the perforations scattered around the top. You need these for breathability so that your feet get enough air and don't stink when the shoes are off.
The heel is made of ABZORB tech allowing for shock-absorption as you transverse the city. If you need a pair that's easy to take off and put on, then you should definitely consider the WW577. It features two straps and is padded along the collar and tongue as well. The rubber outsole was designed using walking strike path tech, which makes it durable.
Pros
Enough perforations for breathability.
ABZORB tech on the heel which allows for shock-absorption.
Classic design.
Cons
The Velcro straps are too short.
Sizes are not perfect fits.
Not enough cushion internally, so they are not as comfortable as other shoes in the same class.
EDITORS CHOICE
Looking for a pair of Velcro shoes that combine athletic design with comfort? Then the Women's 813 V1 Hook and Loop by New Balance are top on the list. You can really kick off a new day on the right foot with these bad boys.
The CUSHNB midsole is really comfortable and gives you the luxury of shock-absorption. If you're going to be standing all day, then you should get these shoes especially for the pillow-like feel of the heel. It keeps you feeling great all day.
The perforations are neatly arranged to add some glam to these already cool shoes. They only come in white so you won't the luxury of choosing colors, but then… white goes with everything, so it's all good at the end of the day. Aside from this, they are easy to slip on so they are great for those with arthritis.
Pros
Very durable
Sizes fit perfectly
Different color variations (currently 3)
Cons
Not great for ladies with high insteps
BEST VALUE
Propet has been in the business of making quality shoes since 1985 and has built a great reputation for comfort. If you've ever wondered about that reputation, the Women's Tour Walker Strap Sneaker should clear those doubts right up.
Its basic active style is designed for comfort. To give you the right fit, the dual straps are adjustable and long so you can stretch them to the limit. For style, the uppers are made of soft full-grain leather. Classy, right?
The midsole is made of EVA, which makes them not just comfortable but able to absorb shock as much as possible. You are bound to enjoy each step, especially with the perforations that provide breathability.
There's sufficient padding in the lining and footbed to keep you feeling great throughout a busy day. Any doubts about durability should be abated by the rubber outer sole and 100% real leather upper.
Pros
Full-grain leather uppers – classy and attractive.
Designed for comfort.
Perforations to allow for efficient circulation around your feet.
Cons
The tongue can dig into your foot at times, which spoils the comfort.
Bad quality control – some sizes fit while others are smaller than normal.
Velcro Shoes for Elderly: Buying Advice
What are Velcro Shoes?
Velcro shoes are shoes that come with a hook-and-loop (Velcro) fastener rather than a shoelace or buckle. The fastener is very easy to use since all that is required to close it up is to place its two surfaces against each other. This explains why Velcro shoes are the most preferred for the very young and the very old.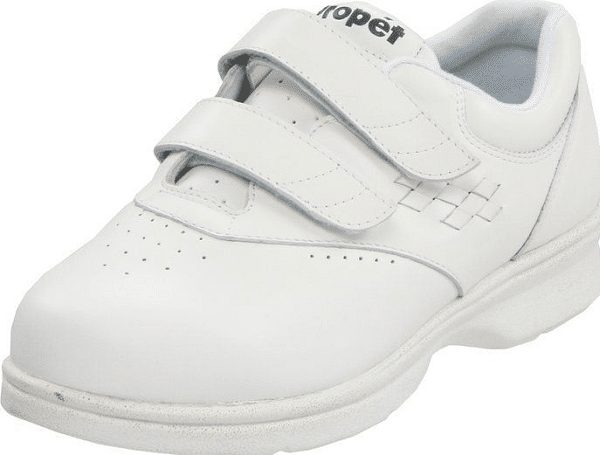 Why are Velcro shoes the best for elderly seniors?
Velcro shoes are better than shoes with buckles and shoelaces not only because they can be worn quickly and easily, but also because they are safe. Shoes with shoelaces are very dangerous for elderly people as they can cause falls whenever the shoelaces get untied during a walk. Similarly, shoes with buckles can be a bit difficult to cope with.
A Velcro fastener stays secured in place and does not get undone until it is pulled on. Even if it gets undone for any reason, it's highly unlikely to cause a fall. So, Velcro shoes are very beneficial for elderly people because they can prevent falls and save seniors from having to constantly check and re-tie their shoelaces.
What to look for when buying Velcro shoes for seniors
Before purchasing a pair of Velcro shoes, there are some factors you need to consider so that you won't end up with the wrong choice. Here are those important factors:
Size: This goes without saying, but there's more to take note of. For most seniors, the feet size change with age. So, wearing the same old shoe size can cause a lot of problems including difficulty and in walking and foot fractures. So, before buying a Velcro shoe for seniors, your best bet is to measure the foot size of the end-user.
Comfort: While high-heeled shoes and shoes with slick soles can look fashionable, they are not usually comfortable for seniors and are very likely to cause falls. Flat, sturdy shoes with padded footrests and non-skid soles are best for seniors because they prevent pain and provide a better sense of balance while walking.
Weight: For seniors (especially those with arthritis), lightweight shoes are best.
Durability: Of course, no one wants to replace shoes every other month or quarter. So, durability is one of the important factors to consider when buying a pair of Velcro shoes for elderly men or women.
Color: While it might sound unimportant, color is also an important factor to consider when buying Velcro shoes for seniors. There's no point buying a pair of shoes that come in colors you don't like.
Last update on 2023-12-10 / Affiliate links / Images from Amazon Product Advertising API