Falls are the leading cause of injury to individuals aged over 65 according to the Centers for Disease Control and Prevention (CDC).
Velcro shoes are generally thought to be the most suitable shoes for elderly people. They're easy to wear and pull off without the need to deal with shoelaces, which can be cumbersome. And even dangerous.
If you're an elderly person or caregiver looking to buy a pair of high-quality velcro shoes without making any mistakes, then you're just on the right page.
Here, you'll learn more about velcro shoes and why they are better for seniors than other shoe types. In fact, we should point out that recent studies have confirmed that shoes are safer for seniors than bare feet, socks or slippers.
Best Velcro Shoes for Elderly: Our Top Picks
In a hurry? Here's our comparison table for men:
And here's our comparison table for ladies:
The market is flooded with different models and brands. And making the right choice can leave you with a head-scratching experience.
To save you from this, we have scoured the market for the bestselling velcro shoes for elderly men and women and have come up with a list of the best choices based on a number of factors including buyer opinions, durability, and brand trust.
Here are our top picks for senior men and women.
3 Best Velcro Shoes for Elderly Men
3 Best Velcro Shoes for Elderly Women
Velcro Shoes for Elderly: Buying Advice
What are Velcro Shoes?
Velcro shoes are shoes that come with a hook-and-loop (Velcro) fastener rather than a shoelace or buckle. The fastener is very easy to use since all that is required to close it up is to place its two surfaces against each other. This explains why Velcro shoes are the most preferred for the very young and the very old.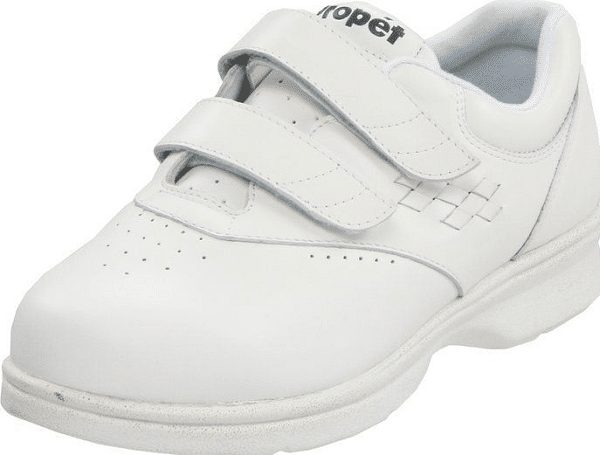 Why are Velcro shoes the best for elderly seniors?
Velcro shoes are better than shoes with buckles and shoelaces not only because they can be worn quickly and easily, but also because they are safe. Shoes with shoelaces are very dangerous for elderly people as they can cause falls whenever the shoelaces get untied during a walk. Similarly, shoes with buckles can be a bit difficult to cope with.
A Velcro fastener stays secured in place and does not get undone until it is pulled on. Even if it gets undone for any reason, it's highly unlikely to cause a fall. So, Velcro shoes are very beneficial for elderly people because they can prevent falls and save seniors from having to constantly check and re-tie their shoelaces.
What to look for when buying Velcro shoes for seniors
Before purchasing a pair of Velcro shoes, there are some factors you need to consider so that you won't end up with the wrong choice. Here are those important factors:
Size: This goes without saying, but there's more to take note of. For most seniors, the feet size change with age. So, wearing the same old shoe size can cause a lot of problems including difficulty and in walking and foot fractures. So, before buying a Velcro shoe for seniors, your best bet is to measure the foot size of the end-user.
Comfort: While high-heeled shoes and shoes with slick soles can look fashionable, they are not usually comfortable for seniors and are very likely to cause falls. Flat, sturdy shoes with padded footrests and non-skid soles are best for seniors because they prevent pain and provide a better sense of balance while walking.
Weight: For seniors (especially those with arthritis), lightweight shoes are best.
Durability: Of course, no one wants to replace shoes every other month or quarter. So, durability is one of the important factors to consider when buying a pair of Velcro shoes for elderly men or women.
Color: While it might sound unimportant, color is also an important factor to consider when buying Velcro shoes for seniors. There's no point buying a pair of shoes that come in colors you don't like.
Last update on 2021-06-22 / Affiliate links / Images from Amazon Product Advertising API